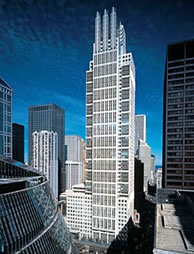 Chicago Private Investigator specializing in surveillance and Chicago background checks, Advanced Surveillance Group. Based in downtown Chicago and operating throughout the area including in Hinsdale, Winnetka, Lake Forest, Wilmette, Highland Park, Glenview and beyond.
"No matter what problem you face, you have found a Chicago private investigator that can help!"Call and discuss your situation with a Chicago private investigator now. The call is free and strictly confidential. 866.629.1515.
A.S.G. helps our clients to obtain the video evidence, detailed Chicago background check information and the computer forensic evidence they need tp make important decisions for their businesses and personal lives, without wasting their time or their money.
Our clients range from Chicago attorneys to businesses and private individuals looking for answers. We have developed a strong reputation for delivering quick, discrete and comprehensive investigations in Chicago and beyond. With offices in multiple states, we can provide global perspective and experience and a Midwestern work ethic, a combination we feel is second to none.
As our name implies, we are expert at conducting surveillance. We are able to operate in every environment in Chicago by utilizing expert Chicago private detectives who blend in. They utilize state-of-the-art surveillance equipment, including hidden video cameras and night vision cameras. We combine that cover and equipment with experience and training making us the preeminent choice for surveillance anywhere in Chicago.
A.S.G. is proud to provide our Chicago clients with a vast number of private detective services and specialize in the following areas:
Chicago Spousal Video Surveillance: If you are facing the threat of infidelity, you need answers more than anything else. The idea of hiring a Chicago private investigator to watch your spouse is difficult at best. Unfortunately, living with the fear and uncertainty is not a real option. Our domestic surveillance experts will get you the proof that you need to move forward with your life. Every aspect of your case will be handled discreetly and is a tasteful way to minimize your anxiety. Please call today to speak with an investigator about your options. Help is available!
Chicago Background Checks: Whether to assist in making the right hiring decision, as part of dealing with a law suit or for the simple need to know something about someone in your life (nanny, home worker, new boy/girl friend, prospective business partner, etc.), we can get you the information you need to make the right decisions. When it really counts, call A.S.G. and have an experienced Chicago private investigator protect your interests.
Chicago Computer Forensic Investigations: Our staff of court room qualified Chicago computer forensic experts utilize state of the art computer forensic software, tools and training combined with traditional private detective work to provide our clients in Chicago with the best possible computer forensic investigation results.
Attorney Services: These may include witness locate investigations, insurance defense surveillance, asset searches, statement taking, litigation support, and criminal defense representation. Call today for more information.
Call us today to discuss your situation with a Chicago
private investigator at 866.629.1515
About Chicago Private Investigators:
A Chicago Private Investigator is a professional trained in the art of investigations and surveillance. In most states, a license is mandatory. Like with an attorney or doctor, Illinois has mandated that certain qualifications, training and experience be required for licensure to protect the public from those who do not have the experience or qualifications to do the job correctly. An Illinois' private investigator's training is usually varied and tends to focus on a certain area, again much like a lawyer. Often times that experience comes from law enforcement including the Chicago police department and FBI, military police or research backgrounds. The crux of a Chicago private investigators capability is to take whatever information their client has and to go find whatever information or evidence the client needs to know. The work that a private investigator does is strictly confidential and stays between you and them.
What makes A.S.G. the best choice to be your Chicago private investigator?
Simply put, We Get You Proof, legally, ethically and at competitive prices. While most Chicago private detectives are retired law enforcement people from up north that retire to Chicago and open up a Chicago Detective Agency, working by themselves out of their homes on a part time basis. A.S.G. is the exact opposite. We are Chicago private investigators, working full time in this filed. We are trained, properly equipped and get our clients results. Equally as important, we will not take your case unless we are confident that we are suited to deliver precisely what you requested.
Hinsdale, Winnetka, Lake Forest, Wilmette, Highland Park, Glenview, Oak Brook, North Brook, Western Springs, Buffalo Grove
This is a cookie-free website. No record of your visit will be left in your computer by us.
Advanced Surveillance Group is a full service licensed private detective agency. We have assisted thousand of clients from the following locations including:
Chicago | Evanston | Wilmette | Skokie | Highland Park | Lake Forest | North Chicago | Gold Coast | Loop | Deerfield | Northbrook | Wheeling | Mount Prospect | Glenview | Des Plaines | Arlington Heights | Hoffman Estates | Schaumburg | Hanover Park | Carol Stream | Glendale Heights | Lombard | Wheaton | Naperville | Aurora Downers Grove | Oak Park | Lincoln Park | Skokie | Hanover Park | Elgin | Glendale | Evanston | Evanston | Brookfield | Oak Park | Maywood | Addison | Winnetka | Glendale Heights | Chicago Private Investigator